Flash is a fictional (at least so far) retired greyhound, Uly's constant companion.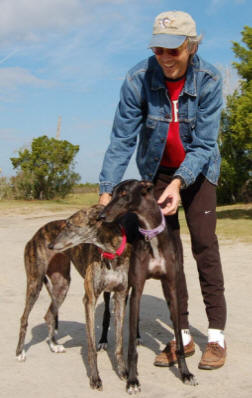 As I researched the locale for Uly's home around Ozello, Florida, out a winding narrow road leading from Crystal River, Florida to a scattering of keys along the Gulf coast, I met Pete Price with Lucy, the brindle, and Molly, the black, at the Ozello boat ramp. When I told Pete about Flash, the character in Gulf Winds, he kindly introduced me to Lucy and Molly and posed for the photos.
Maryann Tolliver, president of GPA Tampa Bay, has given me some great suggestions about greyhound behavior-which I probably haven't followed very closely. If you have room in your house and heart for a great new friend, check their site or the National Greyhound Association site. These organizations and the wonderful people who support them are all about the rescue and adoption of retired racing greyhounds, and are worth reading about on their own merits.
Unfortunately in some ways, dog racing and greyhound welfare are hot-button activist issues. My only interest is as a dog lover, and as an author searching for interesting characters to populate my fictional worlds.
As a result, Flash and his real-life cousins have become close to my heart. And my dear wife is certain I am going to show up with my own "Flash" any day now. I'm not sure she and Angel and Rocky will be as enthusiastic.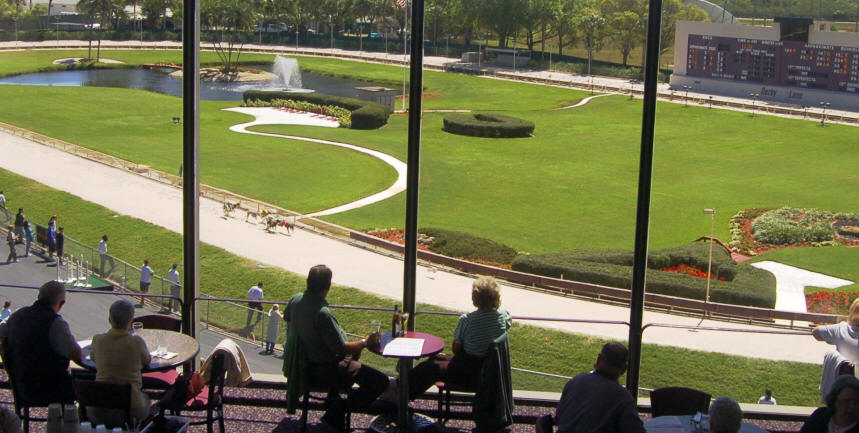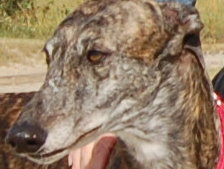 Derby Lanes, St. Petersburg, Florida

Saturday night March 3rd, 2007 - Derby Lanes offered a second Million Dollar stakes race.
Our fictional Flash is a champion winner, also. And Lucy, shown on the right, has that same sly smile.
Photos below are with some of my greyhound friends - and their friends. On the left a loving team huddle up to trim toenails at the GPA of Tampa picnic where I also sold Gulf Winds - with a portion of the proceeds going to help GPA, one of the Tampa area greyhound rescue organizations. How could anyone let these dogs go unloved? And of course Shorty the long-haired dachshund had to come to the October G.R.E.A.T. picnic to see what all the fuss was about.