The Case Commando Stiletto (V42) is a version of the famous Fairbairn Sykes fighting knife originally designed for British commando use during WWII. This knife was produced by the CASE Cutlery Company in 1943 and, in my imagination, carried by Alex Pfister in SNOW STICKS and Lou Keller in MISSING STICKS. These stilettos initially were issued to The First Special Services Force (FSSF), the fabled commando unit supported in south France during OPERATION DRAGOON by the 463rd PFA.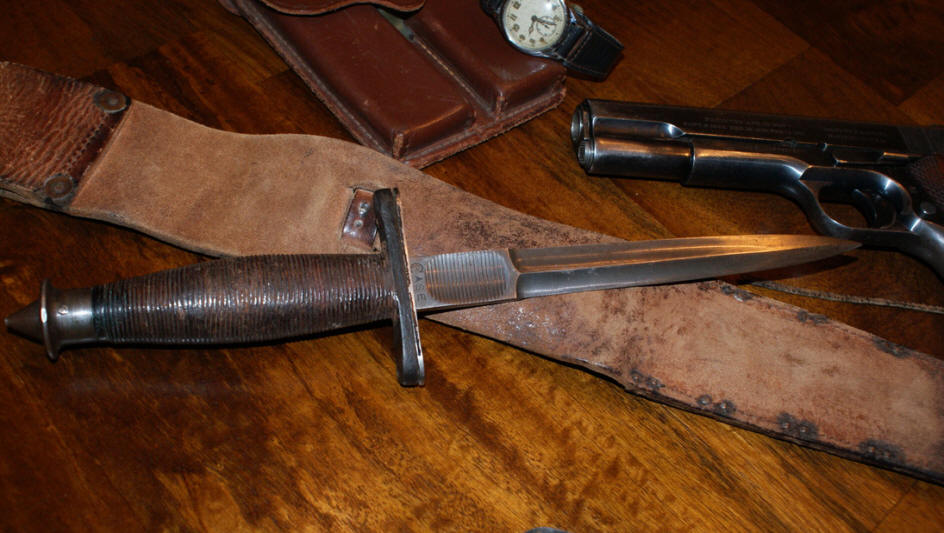 Photo of the Case is from David W. Decker's excellent web site "The Fairbairn Sykes Fighting Knives."
David includes a vast range of information on the Fairbairn Sykes, and a very interesting stories about his father, Colonel David W. Decker, a 1st Cav veteran and later with the Phoenix program, on his web site.
The younger David was also a military veteran, serving as a SeeBee in Vietnam.
The V-42 Case modification of the Fairbairn Sykes was attributed to the officers of the FSSF, commonly called "The Devil's Brigade," including its commanding officer, Lt. Colonel Robert T. Frederick, who desired a close-quarters combat knife for his troops. Col. Frederick reportedly had seen the Fairbairn Sykes fighting knife while serving in England. The FSSF unit was a composite unit made up of both Canadian and US Army forces trained in commando operations.
Approximately 3,600 of these knives were produced and they are 12 1/2 inches overall with a slender 7 5/16 inch double sided stabbing blade, thumb print/CASE marked on the ricasso below the cross guard, with the serrated one piece leather handle with a steel pointed "skull crusher" end cap.