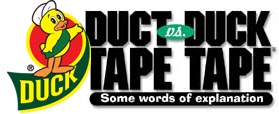 The idea for "100 mph tape" in the Army came from Vesta Stoudt, an ordnance-factory worker.
Duck Tape was originally developed by adding an adhesive to cotten duck cloth, a material used in the shoe and clothing industries around 1910. Its use was expanded and further developed in the use of adhesive medical bandages.
In the 1940s, Vesta Stoudt, a mother with two sons serving in the Navy, went to work in the Green River Ordnance Plant between Dixon and Amboy, Illinois to do her part to help her sons and their fellow servicemen. So Vesta got a job at Green River inspecting and packing cartridges used to launch rifle grenades that were used by soldiers in the Army and Navy. The cartridges were packed eleven to a box, and the boxes were taped and waxed to make them waterproof and damp-proof. The box flaps were sealed with thin paper tape, and a tab of tape was left loose so that it could be pulled to release the waterproof wax coating and open the box. The problem was that the thin paper tape wasn't strong enough, and the tabs frequently tore off when soldiers pulled on them to open the ammo boxes, leaving them frantically scrambling to claw the boxes open while under enemy fire. Lives were at risk –including the lives of her sons. So Vesta Stoudt came up with a solution: seal the boxes with a strong, cloth-based waterproof tape instead of the thin paper tape. Vesta raised the issue with her supervisors but, although they thought it was a good idea, she wasn't getting anywhere with having it implemented. Here's what Vesta Stoudt said:
"I suggested we use a strong cloth tape to close seams, and make tab of same. It worked fine, I showed it to different government inspectors they said it was all right, but I could never get them to change tape."
So Vesta Stoudt did what any other mom with two sons in the Navy would do: she wrote a letter to President Franklin Delano Roosevelt outlining the issue and telling him her idea about how to fix it.
The letter was forwarded to the War Production Board, who put Johnson & Johnson on the job. The Revolite division of Johnson & Johnson had made medical adhesive tapes from duck cloth from 1927 and a team headed by Revolite's Johnny Denoye and Johnson & Johnson's Bill Gross developed the new adhesive tape, designed to be ripped by hand, not cut with scissors.
Their new unnamed product was made of thin cotton duck tape coated in waterproof polyethylene (plastic) with a layer of rubber-based gray adhesive ("Polycoat") bonded to one side. It was easy to apply and remove, and was soon adapted to repair military equipment quickly, including vehicles and weapons. This tape, colored in army-standard matte olive drab, was nicknamed "duck tape" by the soldiers.
After the war, the duck tape product was sold in hardware stores for household repairs. The Melvin A. Anderson Company of Cleveland, Ohio, acquired the rights to the tape in 1950. Commonly used in construction to wrap air ducts, powdered aluminium pigment gives traditional duct tape its silvery grey color . Following this application, the name "duct tape" came into use in the 1950s, along with tape products that were colored. Albert Arno, Inc., trademarked the name "Ductape" for their "flame-resistant" duct tape, capable of holding together at 350–400 °F (177–204 °C).
In recent years soldiers have used OD tape to routinely tape down loose items while parachuting, rig heavy load drops, patch ponchos or even bind dog tags to eliminate clinking; among a myriad of other uses.
Today, Duck® brand Tape is manufactured by ShurTech.