Vietnam 1965-1966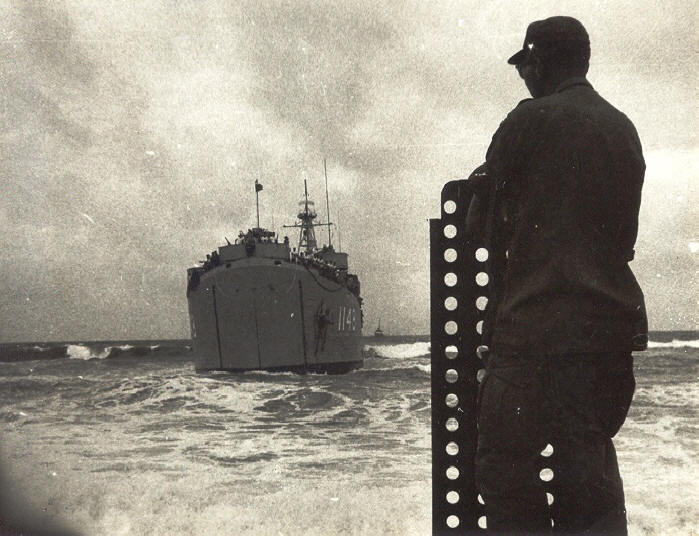 LST at Tuy Hoa South Beach
Assigned with my platoon from the 501st Signal Battalion, 101st Airborne Division to the 1st Brigade Headquarters for deployment to Vietnam in June of 1965 with the Brigade advance party, I pretty much stayed on the move with the Brigade forward Tactical Command Post for the next year, seldom staying more than two weeks at any one location before moving on.
The 1st Brigade was the II Corps "fire brigade" at the time, moving from hot-spot to hot-spot securing new locations for other newly arriving units - Dong Bha Thin for the Korean Marines, Ahn Khe for the 1st Cav, Qui Nhon for the Korean Tiger Division, down to Bien Hoa Air Base where we drove on out Highway 13 to the rubber plantations of Ben Cat and Lia Khe to operate with elements of the 1st Division, Phan Thiet to help the locals, several LST moves, including one up to Tuy Hoa to help protect the rice harvest, then on up north to Dak To cut the NVA route into South Vietnam - then back around again, it seemed like.
The photos are generally organized by location and time - starting with the flight from Fort Campbell to Travis AFB by commercial charter air, then by two big old lumbering C-124's - taking what seemed to be a month - really about five days - to cross the Pacific.
The photos are typical, I guess - lots of shots of command posts, snaps from the windows of airplanes and across the hood of jeeps. Not as many photos of people as I now wish I had, but I must have figured I'd see all of my buddies again and hoped (incorrectly) that I would never see the beautiful Vietnam country side and seashore, and the friendly people of Vietnam again. I've included lot's of boring pictures - unless you were there, on that helicopter or standing guard in that field, or in the camp being overflown. I also included a few documents you might find of interest. The Signal Diagrams are AN/MRC-68 planning documents that indicate unit telephone designations (Strike, Stallion, Sting, etc,), unit locations and even Signal Platoon team chiefs in some operations.
I was told I was going to have to take a medical discharge, and foolishly discarded much of my Vietnam-era documents such as the collection of Stars and Stripes articles about the 1st Brigade.
I have attached a few:
Operation Hawthorne Brigade Letter of Commendation
Operation Highland Personal Letter of Commendation
Special Orders 1401965 Assignment Orders to 1st Bde
Special Orders 201965 My award of Senior Parachutist badge,
Tactical Tips Bde Letter, 17 December 1965
If anyone has any thing like that they would like to share, please forward them, and I will copy, post and return.
Click on the thumbnails for larger views. If you want a file of sufficient resolution to print, let me know and I will email it to you.
The next task - writing the narration for each photo and adding in the 1970 visit to our favorite tropical paradise (good for a couple of more years, I figure). I sure would like your help. Right click on each photo and it will return a unique name for each photo, something like "scan125.jpg" that will identify each shot. If you have information about the places or people, please send it to me and I will include it. And I suspect I will continue to uncover more photos and documents as I sort my files.
Check back. I will be adding to the pages as I find new information and photos. For those of you who made entries in my old guest book, technical glitches caused me to loose them (translation - I screwed up!) - sorry. I haven't found a really good way to keep track of comments, so I have generally added the comments in on the same page as the photos they reference. Check each page of interest. You will find many comments and replies scattered among and below the photos.
Read more on Vietnam at Writing Adventure..