Coast Guard Station Islamorada
Mile Marker 86, Overseas Highway Highway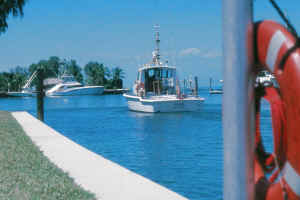 Leaving the basin for patrol.
The Islamorada Station plays a passing role in Lost Key, but is a critical part of the Coast Guard presence in the Keys. Apparently due to homeland security provisions, the Station web site is no longer accessible to the public, however the Coast Guard Auxiliary site provides a look at many of the worthwhile projects and news of the men and women assigned to the Station and the Auxiliary support.