The Keys, starting at Mile Marker 101.5 with John Penneykamp State Park off Key Largo, all the way down to the Dry Tortugas, offers a wonderful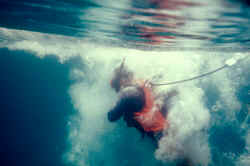 location for recreational diving. I originally trained and received my SCUBA certification from Hall's dive shop on Marathon, a few yards from the Islamorada Coast Guard Station. Beginners can find beautiful coral formations and tropical fish just a few feet under the surface. More experienced divers can enjoy the mysteries of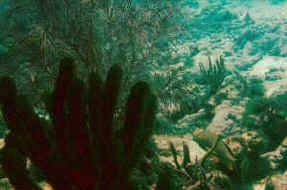 tourist-haunted wrecks.
Professionals lurk further offshore around the suspected sites of long lost Spanish treasures. And kids still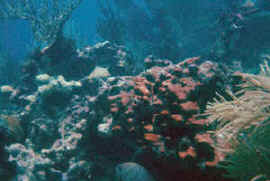 occasionally pick up doubloons washed ashore - although the State of Florida now claims a share of all found treasure.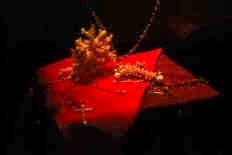 Treasure seekers still search, hoping for a finds as beautiful as as the magnificent pieces brought up by Mel Fisher's company.

Relevance? A significant part of Lost Key takes place on Marathon or in the surrounding waters. If you know the Keys, you might recognize many of the locations. Remember, Lost Key is fiction. But never forget, fact is often stranger that fiction. Stick around the Keys long enough and you'll agree.

Sunsets in the Florida Keys are unique. At the instant the sun drops below the horizon, an instantaneous flash of light covers the sky, ranging in color from green to violet to a standard sunset orange, depending on the witness. Some say this a result of the gases rising from the Central American forests, others somehow associate it with the Pacific Ocean. No one knows for sure why, only that the phenomenon can be seen, at least by some.

Writing, any writing about Key West, should include a reference to Ernest Hemingway. Click here for a tour of his Key West home.

And then there is the Southern Cross - the crux of the matter, and a darn good clock if you are far enough south.

Looking for good food by the water? Sorry, the Blue Parrot - the joint described in Lost KEy - is fictional, although I have eaten in a similar place that seasoned all their dishes with lime juice. Neat tourist stuff the first time. After that, I prefer plain Calabash-style fried shrimp and fish. And the African Queen, the boat used by Humphrey Bogart and Katharine Hepburn in the movie by the same name, once lay outside a Key Largo motel - or so the sign claimed.

My REAL - not fictional - favorite eating place in the middle Keys - EXTREMELY informal, flip-flops optional - as the Keys should be :

PORKY'S BAYSIDE
Phone: (305)289-2065
1400 Overseas Highway
Marathon , FL 33045

(just a few yards past the Coast Guard Station on the right going toward Key West)

If you eat at Pork's and like the food, tell them I sent you. Maybe I'll get a free beer next time down. Like to cook your own? Contact me with a mailing address and I'll send you the Blue Parrot Lime Shrimp recipe.