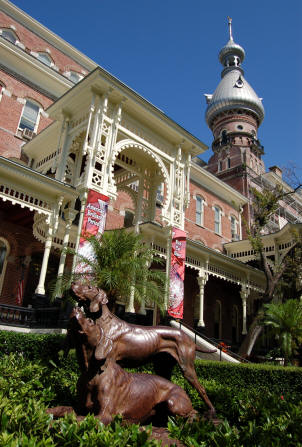 The University of Tampa
An excerpt from the University of Tampa web site:
"Early in the morning on Aug. 2, 1933 , a battered pick-up truck arrived at Hillsborough High School. This was the day when Tampa Junior College was transformed into The University of Tampa and when its headquarters moved from the local high school to what is now known as Plant Hall. Riding on the truck was its president, Frederic H. Spaulding, the former principal of Hillsborough High School and the man who had been the motivating force behind establishing the first local university for Tampa's high school graduates.
Plant Hall, the main academic and administrative building for the University, already had an extraordinary history. Formerly the Tampa Bay Hotel, the building represented, and still remains, a symbol of the city and its history. Local historians credit its builder, railroad and shipping magnate Henry B. Plant, with the transformation of Tampa from a sleepy fishing village to what would become a vibrant city of the 1990s.
Built between 1888 and 1891, the hotel was designed to surpass all other grand winter resorts. At a cost of $3 million, the 511-room giant rose to a flamboyant height of five stories, surrounded by ornate Victorian gingerbread and topped by Moorish minarets, domes and cupolas."
Now the old hotel is home to an academically superior university and part of the local Tampa setting portrayed in Lost Key.
Facts found in Lost Key that relate to the University of Tampa:
| | |
| --- | --- |
| | Which President of the United States stayed with his wife in Plant Hall when it was a hotel and he was a Colonel? HINT - he was a Rough Rider. |
| | Where was Babe Ruth's longest home run hit, and against what team? HINT - He wasn't on steroids, but it paid off for a preacher. |
| | How many minarets grace Plant Hall? Hint - Lucky for Parker, unlucky for the priest. |
Past the trivia, the University grounds provide a unique setting for Lost Key, not to mention fictional occupations for two of the characters in Lost Key.
Taz Ward, Professor of Archeology and one quarter Cherokee Indian, is one of them....
She shook her head, black hair flowing around her face like a mane. "And drop the 'doc.' Call me Taz." She pointed to a photo on the wall, people in turn-of-the-century dress and clothes. "That's Geronimo, in Theodore Roosevelt's inaugural parade.
Parker walked over to the photo. If it was Geronimo, he was an old man by then.
"My dad gave it to me, kind of an apology for my name. He named me after Taz-ayz-sloth, Geronimo's wife. Spanish soldiers killed her. That's what got Goyathlay—that's Geronimo's real name—on the war path. He wasn't a war chief, though, more of a medicine man, a seer, an intellectual..."