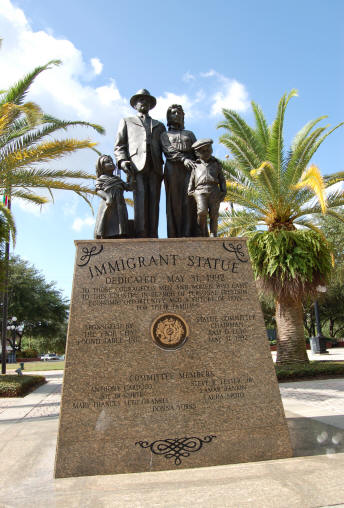 Ybor City, on the eastern edge of downtown Tampa, Florida, owes its beginning to three Spaniards who crossed the Atlantic: Vicente Martinez Ybor, Gavino Gutierrez, and Ignacio Haya. Ybor immigrated to Cuba in 1832 and in 1853 he started his own cigar factory in Havana, as did Haya. The Cuban Revolution in 1868 and high tariffs led Ybor to move his plant and workers to Key West, Florida, followed by Haya. The climate was great, but living conditions, and especially the dependency upon shipping by sea, made business difficult. Their friend, Gutierrez, had visited Tampa thinking he could grow guavas in the region. Instead of fertile fields, he found swamps and palmettos. However, with the help of $4000 from the City of Tampa, he convinced Misters Ybor and Haya to move north - to what is now Ybor City.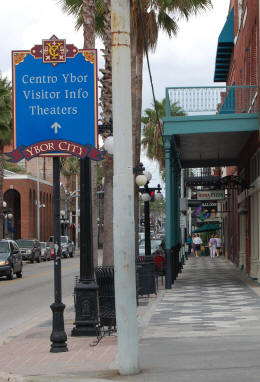 In 1884 Henry Bradley Plant, a businessman from Connecticut, completed a rail line into Tampa and was in the process of improving the port facility for his shipping lines. These methods of transportation would make it easy to import tobacco from Cuba as well as distribute finished products. Tampa also offered the warm, humid climate necessary for cigar manufacturing, and a freshwater well.
Ybor has seen prosperity come and go - and try to come again. From the historic cigar industry origins and the nearby banana docks of years ago, to the new garish entertainment facilities, nearby aquarium and cruise ship docks, people still flock to the area.
The Ybor City Chamber of Commerce site has a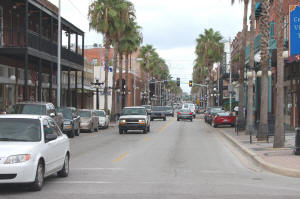 very artistic map of the district. See if you can decide where "La Cantina" and "Barcos Shipping and Bonded Warehousing" would be if they were not a figment of my imagination.
Florida continues to be a major business center for the cigar business, although only a handful of cigars are produced in Tampa today, mostly machine-made. And if you read the ingredients on the box, they are described as "predominately natural tobacco products." So what are the other products, I often wonder?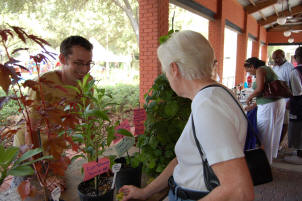 But I still smoke them - mosquito cigars as Uly Grant describes them in Gulf Winds.
Prior to the 1964 embargo on Cuban tobacco, most American cigars were factory made from Cuban tobacco. Now the higher quality cigars (read - hand rolled from quality tobacco) mostly are made from tobacco grown and processed in Nicaragua, Honduras and the Dominican Republic. A substantial portion of America's cigar business is still orchestrated from Tampa, principally in the hands of the J. C. Newman and Fuente families. Visit the Ybor Fresh Market on Saturdays at the Centennial Square, everything from plants to cigars to greyhounds looking for foster homes.